GRESB Real Estate Assessment
Star Asia Investment Corporation ("SAR") participated in the GRESB Real Estate Assessment in 2022, and acquired "3 Stars" rating (highest rank: 5 Stars).
Furthermore, SAR obtained the "Green Star" which indicates that SAR is a participant which excels in both the "Management Component" which assesses the policy and organization structure for promoting ESG as well as the "Performance Component" which assesses environmental performance and tenant engagement of properties owned.
SAR also received the highest "A Level" for the GRESB Public Disclosure, which assesses the width of our ESG disclosure.
GRESB is an annual benchmarking assessment to measure ESG (Environmental, Social and Governance) integration of real estate companies and funds, as well as the name of organization which runs the assessment. It was founded in 2009 by a group of major European pension funds who played leading roles in launching Principles for Responsible Investment (PRI). Currently, more than 170 Investor Members (with $ 51 trillion in assets under management) use GRESB data for their investment decision-making and engagement with investees, and several institutions from Japan including Government Pension Investment Fund (GPIF) utilize GRESB Assessment results. In 2022, 1,820 listed or private real estate companies/funds participated in GRESB Real Estate Assessment.
https://gresb.com/nl-en/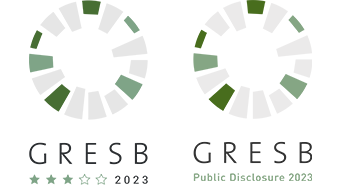 Acquisition rate of external certifications and Certification Goals


■Acquisition rate of external certifications and Certification Goals
Acquisition Rates(As of August 18, 2022)(note 2)
Goals for2026
Number of Properties
Total Floor Area(㎡)
ratio(%)

(note 2)

ratio(%)
DBJ Green Building Certification
8
189,352.89
34.6
Building-Housing Energy-Efficiency Labeling System (BELS)
2 (note 1)
5,605.73
1.0
Certification for CASBEE for Real Estate
3
38,868.57
7.1
Total
13
233,827.19
42.7
50.0

| | |
| --- | --- |
| (note1) | In case when a property holds multiple certifications, number and floor area of one property is included. |
| (note2) | Ratio of each floor area to the gross floor area of SAR portfolio (547,221.14㎡). |

■DBJ Green Building Certification

DBJ Green Building Certification System (the "System") is certification system established in April 2011 by the Development Bank of Japan (DBJ) in order to support environmentally and socially conscious management of real estate (Green Building). In addition to the environmental performance of subject properties, DBJ assesses and certifies real estate demanded socially and economically based on comprehensive assessment including aspects responding to various stakeholders such as disaster prevention measures and attention towards the community.

Property name
Asset type
Location
Total floor area (㎡)
Certification rating
Certified date (reassessment date)
1
Baraki Logistics
Logistics
Ichikawa-shi, Chiba
12,471.50
★★★
Jul 31, 2021(reassessment date)
2
Honmachibashi Tower
office
Osaka-shi, Osaka
15,407.83
★★
Jul 31, 2021(reassessment date)
3
La Park Kishiwada
Retail
Kishiwada-shi, Osaka
65,663.02
★★
Dec 11, 2020
4
Urban Park Tokiwadai Koen
Residence
Yokohama-shi, Kanagawa
15,708.08
★★
May 14, 2021
5
Urban Park Mitsuike Koen
Residence
Yokohama-shi, Kanagawa
10,918.37
★★
May 14, 2021
6
Iwatsuki Logistics
Logistics
Saitama-shi, Saitama
29,729.72
★★
Jul 31, 2021(reassessment date)
7
Seishin BLDG.
Office
Shinjuku-ku, Tokyo
7,624.66
★
Jun 21, 2021
8
Seiyu Minakuchi
Retail
Koka-shi, Shiga
31,829.71
★
Dec 11, 2020
Total
189,352.89

| | |
| --- | --- |
| (note) | As of June 30, 2022 |

■Building-Housing Energy-Efficiency Labeling System (BELS)

Under the Act on the Improvement of Energy Consumption Performance of Buildings ("Building Energy Efficiency Act"), real estate business operators are required to make efforts to display the energy-saving performance of buildings. BELS is a system in which third-party institutions evaluate the energy-saving performance of buildings based on the evaluation standards set by the Ministry of Land, Infrastructure, Transport and Tourism, and the certification rating is given on a five-star scale (★ to ★★★★★).
For details of BELS, please refer to the following website.
Website on BELS: https://www.hyoukakyoukai.or.jp/bels/bels.html

Property name
Asset type
Location
Total floor area(㎡)
Certification rating
Certified date
1
Urban Center Hakata
Office
Fukuoka-shi, Fukuoka
3,566.56
★★★
Dec 17, 2021
2
Urban Park Miyamaedaira(note 2)
Residence
Kawasaki-shi, Kanagawa
2,039.17
★★
Dec 24, 2021
★★
Dec 24, 2021
Total
5,605.73

| | |
| --- | --- |
| (note 1) | As of Jan 31, 2022 |
| (note 2) | This property consists of two buildings, each with its own certification. |

■CASBEE

Property name
Asset type
Location
Total floor area(㎡)
Assessment rating
Certified date
1
Higashi-Kobe Center Building
office
Kobe-shi, Hyogo
25,740.46
S ★★★★★
Jun 30,2022
2
Urban Park Daikanyama
Residence
Shibuya-ku, Tokyo
8,261.29
A ★★★★
July 27,2022
3
abeno nini (Retail)
Retail
Osaka-shi, Osaka
4,866.82
A ★★★★
August 1,2022
Total
38,868.57

| | |
| --- | --- |
| (Note) | As of August 18, 2022 |